Archive for the 'pain management' Category
With the pseudo-chrisis continuing in Florida, Doctors are more worried about being police interrogators then physicians. It recently came to my attention of an episode where a patient was postsurgical for a two-level spine fusion and since the patient was seen by a chronic pain management physician preop, the surgeon elected to not write any medications for this patient postop to manage the pain but instead, the patient was to immediately follow up with his outpatient pain management physician. It is a simple plan and under normal conditions would have worked fine. Unfortunately, the pain clinic had been closed by the authorities with no plan for outpatient follow-up of these patients, other than fend for yourself and good luck with that. It was the impression of the office staff that the patient  had arrived at our office without adequate documents to verify his situation.  They were able to find an MRI that was about a year and a half old but the one that was done before the most recent surgery was not available and the patient could not remember the name of the MRI company. He was asked to return with this information and in his pain and frustration, returned to the surgeon's office asking for pain medications  instead. The surgeon however was in surgery so no one was there to prescribe to him and they recommended that he go to the closest ER as he was showing signs of going into acute withdrawal which was compounding his acute postsurgical pain syndrome. We have repeatedly tried to contact this patient but the phone number we have is not working.
Physicians have always been cautious about prescribing pain medications to patients. The dominant problem in the medical community has always been the undertreatment of chronic pain conditions.  This situation is being made even worse now by law enforcement and politicians grandstanding on the magnitude of this problem with the exaggerated claims like a person a day is dying in the state of oxycodone overdose.   We all know that statisticians and liars figure and if you have proof that this is occurring, please call my office at 352-224-3139 and cite the reference that this statistic is coming from. What I do know however, is that there are 34 people per day who are dying in this country from gunfire. This is a far more severe problem than the "war on drugs".   No one is holding a gun to the head of any person who goes to a physician's office and states that they have pain and requests medications to manage that pain.  It is a difficult situation, and as a physician if I can tell the person is lying to me, I will not prescribed to them.  Now in the current witch-hunt environment, history is simply repeating itself. Any doctor who prescribes pain medications especially oxycodone or Xanax is a street-level drug dealer and should be put in jail. Complicated issues are frequently simplified by prejudice. Prejudice is an efficiency of the mind just like gut instinct is. It is a way for the human mind to cope with an overwhelmingly complicated situation.
The solution is not to charge doctors with third-degree felonies or to charge them with  Five counts of manslaughter as they have done with a doctor in Winter Haven Florida. As a pain management physician, I do believe that there are chronic pain conditions, I do believe that sometimes medical management is indicated, sometimes interventional pain management blocks and procedures are indicated, and sometimes surgery is indicated. All these tools are used by myself and our colleagues and judiciously applied on a case-by-case basis. I do dominantly have to believe and trust my patients when they say they are in pain. Should I assume that everyone is a liar? If you come to me as a patient should I assume that every word out of your mouth is a lie? At the end of the day, the individual patient is responsible for their behavior and whether they are compliant or noncompliant with the way the medications are prescribed. Myself and other colleagues of mine, have not prescribed to patients  and referred them to the addictionologist when we have detected that there is a problem. We usually do not get a thanks! Sometimes our safety is even put in danger. Even in the best case scenario, there is an unpleasant verbal confrontation. I personally had a patient who claimed that she could not pee for a urine drug screen throw coffee on me. Many of my colleagues have had guns pulled on them by patients they refused to prescribe to. I invite you and all who criticize and blame the doctors to go to medical school and residency and pay your dues for the 12 to 15 years to become a pain management physician and become a front-line provider for this challenging patient demographic. I'm sure you'll find it easy, enjoyable, and will always have a relaxing day at the office.
As a bonus, you will relish the new strategy to balance the healthcare budget by charging all the doctors with Medicare fraud and for then asking for the money back. To add insult to injury, a new law has been passed that if anyone is charged with Medicaid fraud, your license to practice in the state of Florida which only last for two years, will not be renewed! Suspending your ability to be a physician! By reciprocity, all the other states will then discipline your license to practice, and suspend your license!  As physicians, we unfairly suffer through double jeopardy, multiple punishments for the same offense by every state that we own a license in, and the brainwashing of the public by ambulance chasing attorneys that we are the bad guys!  As a bonus, if we ever make a mistake, it will be available for the public to see for the rest of our lives in the national practitioner database. As a precaution, most hospitals will then refuse to offer you privileges just in case you might not be perfect in the future.   50% of the contracts for locums tenens physician services that I review request a doctor who has never been involved in any lawsuit.  Before I completed my residency, however, we were pre-warned in a lecture given by an attorney to anticipate that we would be involved in an average of four lawsuits or more during our career. My attorney has advised me because of the legal jeopardy and risk involved, that I should no longer accept Medicaid patients. This new legal jeopardy for Medicaid providers is just a bonus kick in the crotch since it is already the poorest payor that we ever see in office. Don't believe me, see the attached article on Medicare fraud sweep includes 10 arrest in area by clicking here. PS: if you are looking for information Jayam Iyer M.D., the principal Dr. and owner of the creative health Center in Clearwater Florida, see this article starting approximately at the sixth paragraph.
May God bless you, and may God bless and protect the pain management physician and his patients.

Happy MLK day; as Pres Obama says: Celebrate by helping others & we are! Patient appts are available today for pain management & wellness including natural weightloss & bioequilavent hormones. Just call 352-224-3139 & if no answer, leave a message we will be open after 1:30 lunch break. We are takeing in new patients with very short wait times. May we all take some time today to learn more about this great man.  God Bless you & may God Bless America.

The Arthritis Foundation, working with the Centers for Disease Control and Prevention, launched a national campaign this year to spread the word that no longer is it advisable to lay off your joints when arthritis strikes but instead they now say proper movement is the best medicine for the nation's leading cause of disability.  Exercise can actually help relieve pain along with over the counter treatments like Tylenol or Motrin without all the side effects of prescription medications such as oxycodone, Vicoden, and Celebrex.  Nutritional supplementation is key as well.  The right kind of exercise can loosen stiff joints and improve mobility by strengthening muscles around those joints.  In addition to these benefits, exercise can help you control and maintain your weight.  For every pound gained, experts note that the pressure across your knees increases by four pounds.  Low impact activities such as walking, cycling, the eliptical machine, tai chi and water exercise is best.  We offer our patients a wide range of options including various supplements, accupuncture, and prescription therapy.  A great resource is the Arthritis Foundation's website at www.arthritis.org or call the local Florida chapter at 813-968-7000 or toll free at 800-850-9455 as well as Center for Disease Control and Prevention at www.cdc.gov/arthritis.  Feel free to call our office at 352-224-3139 to schedule your evaluation today.

When I see patients at the office, time and time again the longest part of the visit winds up being trying to collect a history and correlate the symptoms.  It would be so very helpful if patients would keep a diary of how they feel (pain levels and locations), what they ate, what supplements they took and how they were feeling.  It makes it so much easier to tie it all together.  We are putting together our largest Transitions weight loss group yet- get on the sign up sheet now, even if you just want to take part in the walk club or tai chi.   We are still running special Botox pricing at $10/unit, call the office for details.  We have openings on the schedule this week for pain management, wellness, and weight loss.  I look forward to seeing you there! Post your most burning questions.

I read a great article this weekend at Nutritionsmart from  www.TerryTalksNutrition.com and wanted to share some interesting excerpts with you from it.  Quoting the wisdom of ages from 5000 years ago, this is a fantastic article on pain and inflammation as the root cause.  Inflammation can affect organs, glands and other soft tissues of the body.  Experts has estimated that 80-90% of diseases are caused either directly or indirectly by inflammation.  By reducing inflammation, you initiate the healing process of the damage caused by the inflammation.
Damage such as that caused by inflammation following an injury when chemicals from the body are released into the blood which increase blood flow to the area.  The increased blood flow and release of the chemicals attract white blood cells to the site of the inflammation.  The increased number of cells and inflammatory substances can cause wearing down of cartilage (which cushions the end of the bones), irritation, and swelling of joint lining.  It was about inhibiting COX-2 enzyme to control inflammation and possibly even cancer.  Chronic aspirin users see a reduction in inflammation and cancers.  This article looks at common herbs from India, curcumin and boswellia as the answer.
A common herb known as turmeric contains curcumin (identified in pharmacology as an anti-bacterial, antifungal, antiviral, anti-yeast, antiallergenic, anti-inflammatory, a powerful antioxidant, antitumor and anticancer) and may be in your kitchen right now.  Curcumin can outperform steroids in their anti-inflammatory properties.  It requires a reduction of 60 parts of turmeric to get one part of curcumin.  Then 20 parts of curcumin are reduced to one very powerful and effective curcuminoid which is the most powerful and active ingredient for chronic and acute pain relief.  Curcumin is thought to be an even better anti-inflammatory than cortisone (one of the most powerful steroids).
The most powerful formula combines curcumin, curcuminoids, boswellia, DLPA and ginger and is extremely effective in improving joint structure and function.  Recently scientists in India isolated a subparticle of curcumin known as curcuminoid which is 100 times as potent as curcumin in reducing pain and inflammation.  The article stated that researchers at M.D. Anderson Hospital in Houston, TX stated that curcumin in laboratory studies was as if not more effective than any cancer treatment drug they have seen from any pharmacutical company.  The combination of DLPA and boswellia can enhance the anti-inflammatory properties of curcumin. DLPA is an amino acid found in all common proteins consumed on a daily basis.  It has the ability to help us maintain higher levels of serotonin (the brains "feel good" hormone.  DLPA can also lengthen the time released and retained in the bloodstream.  This can be significant for mood elevation and depression.  Terry, the author, has researched and collected over 2000 abstracts of various studies of curcumin.  In one double-blind study he found, curcumin matched cortisone as a pain reliever and anti-inflammatory.
You can find this fantastic nutritional supplement, curcumin on my website www.doctorgorrell.com and while you are there please take the free nutraphysical for your individual and personalized recommendations.

What a beautiful morning in Spring Hill, FL today!  The kids are all on their way …. going to do a lemonaid stand and FREE blood pressure screening at the office today.  I have some openings so call immediately to get in for pain management, weight loss, or Botox (still running the special of $7.99 per unit).
Today we have such a light load there should be no wait times.  We are rolling out the recent press releases today, made the RSVP yesterday for the Row For A Cure and we also got some of the pics from the Grand Opening and the special visitors to the office on Facebook last night.
We are looking forward to the Ribbon Cutting this coming Tues, August 3rd at noon at the office.  I have also begun a campaign of community education by offering FREE health seminars at the office every Wed night at 6 pm.  RSVP due to limited seating.
Let me know what topics you would be most interested in learning about…..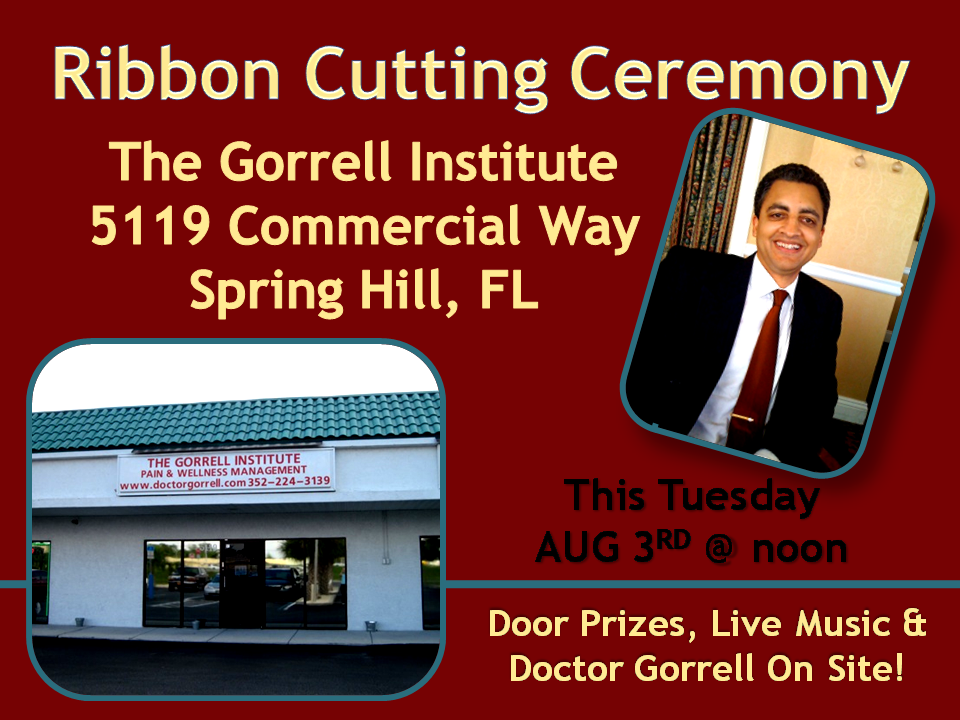 On Saturday, July 17, 2010 the Hernando County Business Digest posted in Who's Hot about the relocation of my practice from Lutz, FL to 5119 Commercial Way Spring Hill, FL  34606.  I have busy seeing pain management and anti-aging patients since mid-June.  I am excited to be a new member of the Hernando County Chamber of Commerce as well as the Hernando County Medical Society.   I hope to see everyone at the official ribbon cutting on August 3rd.  Roger's Signs got the signs up so should be easy for everyone to find now.  I will get some pics up soon.

Our Grand Opening celebration was a blast.  Our staff even put on a breakdancing show!  The food was wonderful….. my friends, Tony and Joan at the Jamerican Inn (Caribbean and American Cuisine located at 4196 Mariner Blvd Spring Hill, FL  34609  352-835-7119) provided wonderful curry chicken, jerk chicken, and rice and peas.  We had friends from Suncoast Vital Care Pharmacy, Spring Hill MRI, West Hernando Diagnostic MRI,  Nurse On Call, Crystal Home Medical Equipment, and The Answer (Don Kirby), just to name a few.  We even had guests from as far away as St. Petersburg.  Several patients came and showed their support as well.  It was a great time.  I took some fantastic pictures and will hope to get them posted to my facebook later tonite.  It was a great opportunity to visit with folks and for them to learn more about wellness, anti-aging, weight loss, stress management, pain management and weight loss.  Looking forward to my FREE seminar this evening on Andropause at 5:30 at office 5119 Commercial Way Spring Hill, FL  34606.  Today we will work on building the website and adding affiliate links for some of the places we refer to frequently to make it easier for our patients to find.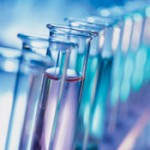 Dr. Gorrell is a diplomat in Anti-Aging medicine.  He has special training in hormone testing and natural replacement therapy options to help both men and women maintain youth and vitality thru andropause and menopause.  Additionally, Dr. Gorrell handles Pain Management. If you have been suffering, there is no reason to continue. Come to the Correll Institute and let us take your pain way.
By the way, I am running a special for $99 for the first visit if you say you're responding to see in this special on my website.
Have a great day,
Dr. G.
Call Dr. Gorrell at 800-788-1444